Wachusett Mountain furnishes snowy escape from pandemic drudgery
The coronavirus pandemic has impacted all manners of life –  social gatherings, work, school, and home. The same can be said for children and adults who enjoy skiing and snowboarding at Wachusett Mountain.
"Due to the global pandemic, I chose not to purchase a season pass this year to Wachusett Mountain," said Applied Arts teacher Greg Chandonnet. "I miss the social aspect of having a season ski pass, seeing students at the mountain, and getting out with colleagues."
Due to the social distancing requirements made by the government, the administration had to put protective measures in place to keep the skiers and riders safe, such as social distancing in lift lines, required face coverings on and off the lift, and more. 
"My husband said that overall skiing is just as fun as it has been," said chorus teacher Megan Will. "He has a season pass, so with the limit on how many people are allowed during one session, he thinks he actually has more space to ski." 
In order to prevent the spread of the virus, Wachusett Mountain reduced the sales of season passes by fifty percent, allowing for shorter lift lines, and for some, a more enjoyable ski trip.
"When I visited the mountain for a ski lesson, I felt completely safe," said Will. "I have been very careful during this pandemic, but with everyone wearing a mask and being outside I felt comfortable and was able to enjoy my time there." 
History teacher Victoria Anderson-Colonna said she and her family also feel safe at the mountain.  
"Besides being masked up and socially distant in the lift line, riding the lift with only those you rode up with are small but very effective changes that were made at the mountain to help prevent the spread of the virus," said Anderson-Colonna. 
Although the Mountain's cafeteria remains closed, skiers and snowboarders can still enjoy a meal in the restaurant, the Black Diamond with spaced out tables and barriers to protect the staff.
The pandemic has inspired adventurous hikers to find a calming escape from the hustle and bustle of life. 
"I hike up the mountain before it opens in the morning 5 a.m. – 8 a.m. and ski the trails," said Chandonnet. "It is a great way to get some exercise and be out in nature.  There is something magical about skiing an empty mountain as the sun rises."
About the Writer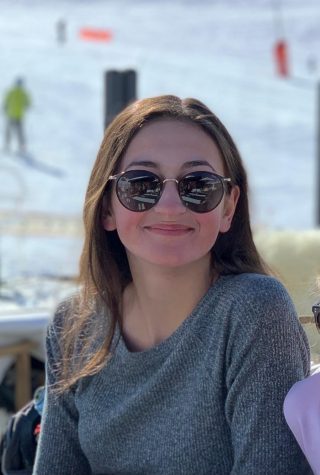 Emma Finnerty, Staff Reporter
Emma is currently a sophomore from Holden. Emma has interests in books, pie, and loves playing her guitar. Along with writing, she enjoys reading and watching...