Teachers donate time and money to the community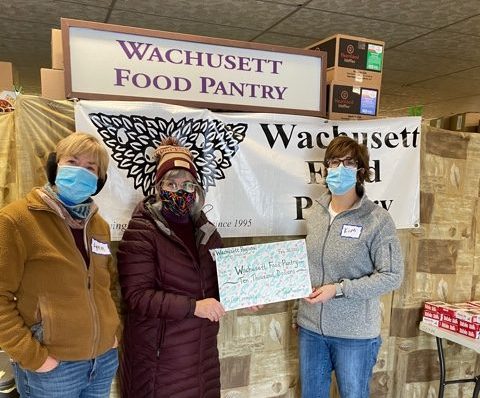 This February, district teachers banded together to donate a total of $10,000 to the Wachusett Food Pantry in Sterling, MA.
"We chose the Wachusett Food Pantry because it encompasses all the towns we live in," said WREA President and Naquag art teacher Mary Shepard. 
The organization first donated in May 2020, after Social Studies teacher Jochen Welsch proposed the idea. 
"Last year when Covid hit we wanted to give back as a group," said Shepard. "We wanted to give back to the community." 
The organization decided to donate again to the food pantry – this time for a shorter campaign of two weeks. Over 80 teachers participated in the event and the WREA matched the members' donations. 
On Saturday, February 19th, Shepard delivered a $10,000 check to the pantry. 
"I cleared my schedule to go and see the system. I stayed for the whole distribution," said Shepard. "It was like a well organized military ship."
English teacher Karl Hartshorn said he volunteers at the food pantry as often as he can. 
"I wanted to do something to help the Wachusett community," said Hartshorn. "It's always a lot of fun. Everyone is really positive and it's always interesting."
Several students said they also volunteer at the pantry. 
"It's a good process; especially in the pandemic we distribute to people's cars in order to ensure safety," said senior Matthew Majersky. "I enjoy it. I like to give back to the community and give back to people in need." 
The Wachusett Food Pantry distributes supplies on both Fridays and Saturdays. 
"On Friday they do homebound bags and boxes for recipients," said Shepard. "There were 10 or 15 grocery carts filled with bagged foods, including desserts like a cake decorated with kit kats."
The day Shepard delivered the check, a total of 77 cars received food and other household supplies.
"They ask the recipients if they have pets and will give them pet food," said Shepard.
According to teachers, donating – either time or money – proves beneficial.  
"You feel good because you get to participate in helping someone," said Hartshorn.