Lemoine breaks aquatic records but receives little fanfare
One recording breaking Mountaineer athlete has made the pool her second home. 
"I have been swimming since fourth grade," said senior Maura Lemoine. "For a long time it was my whole life; all I ever did."
Junior Kylie Grebinar said she has been Lemoine's teammate for the past four years.
"She always seems so dedicated because of how much time and effort she puts into practices and meets. She is also dedicated based on her sportsmanship towards teammates and coaches," said Grebinar. 
Lemoine has competed on travel teams, including Greenwood and the Stingrays USA team – experience that Social Studies teacher and varsity swim coach Jochen Welsch said only adds to the strength of the high school team.
"I always try to encourage swimmers who swim for club teams to give high school swimming a try because it's more competitive that they think," said Welsch. "When a swimmer like Maura comes on the team it sets an example for other club swimmers and shows the impact they can have."
Lemoine said she set a goal in her mind when she entered high school. 
"I wanted to break that 100 back race record; it was one of my coach's records," said Lemoine. "It was my dream to see my name on that record board in the school's gymnasium too."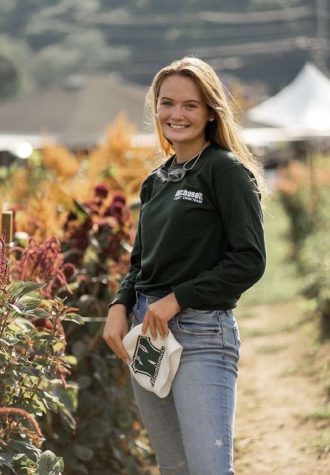 But freshman year Lemoine missed the high school states competition qualifying time by 0.02 seconds. 
For 12 more months Lemoine pushed herself in order to achieve success. 
"I made it to states and was also the only girl from Wachusett that made it that year," said Lemoine.  "I broke the record and it was one of the biggest days of my life." 
Teammates expressed pride for Lemoine's accomplishment. 
"It was a really big deal when the record was broken because it shows improvement from the previous one and how Maura was faster than it. Also it was a big deal because it shows in a sport that is almost always unrepresented or commonly forgotten about that great things like records being broken can still happen," said Grebinar.
The motivation and drive Lemoine developed came from her team and their support. 
"Our team was close knit and at meets we supported each other, so much, no matter what," said Lemoine.  "The sportsmanship was amazing."
But Grebinar insisted that Lemoine truly acts like a team leader.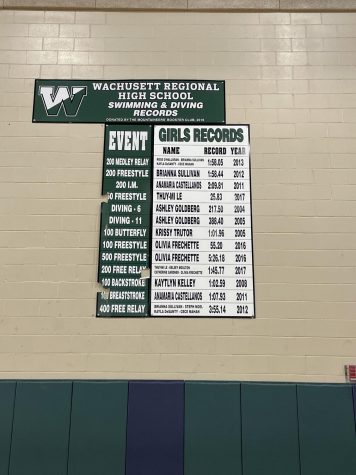 "She gives others advice when they need it, as well as she also always cheers her teammates regardless who they are. Like last year for example she was the one to plan the senior night," said Grebinar. 
Welsch, who has been coaching for 21 years, said he hopes that the school will recognize Lemoine's achievement. 
"Getting a record board was a long process because funding isn't usually part of the school budget and the district has particular rules about how fund raising money has to be used and it can't be used for things like record boards. So finding the money wasn't easy," said Welsch. 
As of March 2021 the swimming board still hadn't been updated.
"Every year I kept asking when my name was going to be put up on that board, but it kept being put aside because of money,"  said Lemoine. "The year before a boy on the swimming team broke a record and his name was put up right away, same with other sports championships." 
Lemoine said her family remains upset about the lack of recognition.
"This year they finally said they would do it because my dad and I said we would take it into our own hands if they didn't," said Lemoine. "We even said we would pay for it ourselves."