Revamped Homecoming events hypes Mountaineers
Student Council members have planned Homecoming events for decades.  But, due to Covid, these student leaders had to modify certain traditions.
"It was tougher to plan events this year due to the restrictions we were under, but we are heading in a better direction of normalcy. I appreciate the amount of help we received to pull it all off," said Student Council member, senior Ella Grady.  
The well-attended Homecoming dance found a new location – outside. 
"The dance was changed at the last second. The Maintenance department came up with the plan twenty-four hours before the event," said Math teacher and Student Council adviser Jessica Daoust. "We decided to switch the parking lots because there were 1,019 students attending the dance. Thankfully [assistant principal] Mrs. DeSimone stepped up and helped us with coordination." 
For the past year, Covid caused high school students around the country to miss out on social opportunities.
"With the Homecoming events and Spirit Week being the first normal school-wide event since 2019, we wanted to make the event as memorable and as exciting as we could. I think that we accomplished that," said Grady.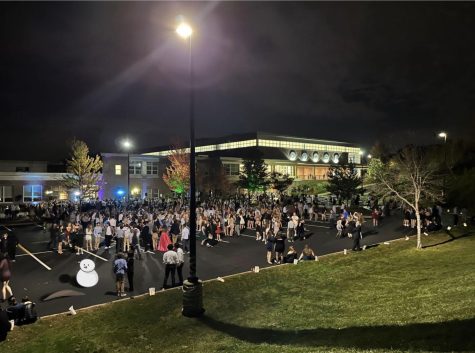 Senior Patrick Kennedy said he thought the Friday night dance ended up being successful.
"The Homecoming dance was actually really fun. It was a break from all the Covid rules inside the school and we got to have a great time with friends," said Kennedy. "I was expecting it not to be fun because it was outside, but I honestly had a great time." 
The pep rally – held on the turf field for the first time ever – included two simultaneous student/faculty flag football games. 
"I am glad that it [pep rally] was outside. I thought the flag football game was very entertaining. The staff said they had a blast, and the students seemed to love it," said Daoust.  
But senior Mitchell Thoday said that students encountered unexpected problems at the pep rally. 
"The flag football game was good, but it lacked outside seating," said Thoday. 
The sophomore class, as well as the sports teams, could not fit in the bleachers, so students had to sit on the ground near the goal post. 
Despite that issue, several students said they enjoyed the many aspects of the week, including the banners, the themed dress up days, and the bonfire. 
"It was a pretty great Spirit Week and Homecoming. It has been a long time since Wachusett was able to get rowdy," said Kennedy.
Thoday agreed. 
"Spirit Week provided a sense of community. It felt like a more fun-focused school environment," said Thoday.