Cross-country program endures smooth coaching transition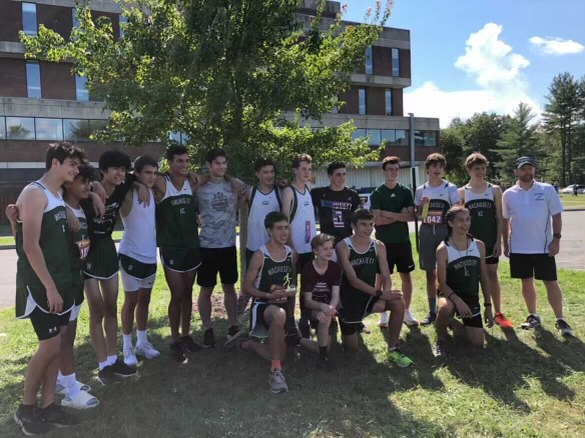 Cross country runners had a new mentor this fall season for the first time in over two decades.  
Michael O'Malley, who has been an assistant coach for several years, took over the head position when Brian Wallace retired last year. 
"I first started coaching when Wallace was coaching track and field, back in 2000," O'Malley said. "I've got big shoes to fill. Wallace was the best coach."
O'Malley said he does not intend to make major changes to the running program. 
"I'll switch some training around, but overall it will be the same training. There may be some different paces, but everything will come together in the same workout," said O'Malley. 
Varsity runners said they felt comfortable with this coaching transition. 
"He's passionate, supportive, and goal-oriented," said sophomore Dylan Brenn. "Coach learned a lot under Mr. Wallace and he's passing that knowledge onto us."
O'Malley has been appointed as the head coach to both the girls and boys cross country teams. 
"He's been doing a great job while coaching both teams. He gets to know everyone and makes sure we're all doing our part," said Brenn. 
According to the runners, having one coach proved beneficial.
"He [O'Malley] brings more connection between the boys team and the girls team since he is the head of both now," said junior Hayden Pierce.
Other runners said that overall they appreciated O'Malley's coaching style.  
"He has been very supportive throughout my running journey. I have improved a lot and become more serious about my running because of O'Malley," said sophomore Marlise Morini. "In middle school I just ran because I was signed up, but then I started to really enjoy it in high school."
Now, Morini said, she may consider participating in the sport once she leaves the Regional.
"Coach [O'Malley] led me into the mindset of running in college. I'm not looking to get recruited, but if the school has a team, I might sign up," said Morini. "Thanks to Coach, I've been having a really good season. I've realized just how fun running can be and how I can reach my full potential."