Main Street traffic frustrates students and teachers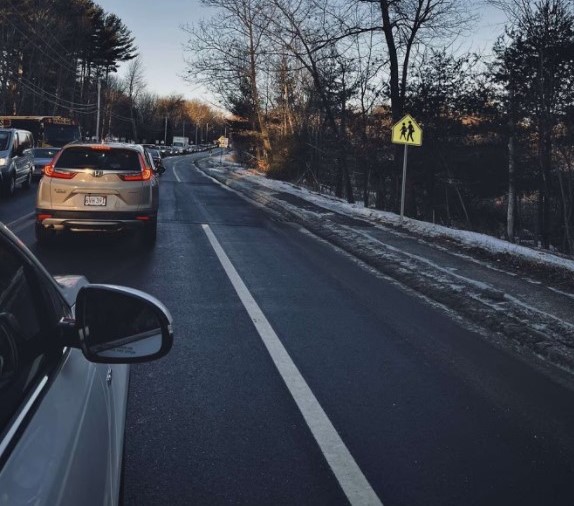 Around the time the first and last bells ring on any school day, traveling on Route 122 can feel like sitting in Los Angeles traffic on a Monday morning.
"I wish there was a viable solution [to the traffic problem], but it's just never going to happen," said Environmental Science teacher Jennifer Drew.
According to the administration, students have been handed more tardies than the school's usual standard.
"The average number of students late each day is now up to 30," said assistant principal Michael Pratt. "That is about 1.5% of our school's population."
Freshman Isabella Rossi, who normally takes the bus, said she missed it one morning and ran into issues after finding a different ride to school.
"My parents drove me to school. But after seeing the traffic they dropped me off on Main Street and I had to walk the rest of the way," said Rossi. "It's very unsafe. I accidentally stepped on some ice and slipped and fell on my face."
Sophomore Chase Garabedian said the traffic has made her bus ride longer.
"It takes about five minutes to get from my house to the school," Garabedian said. "But my bus ride is now normally about 30 minutes long."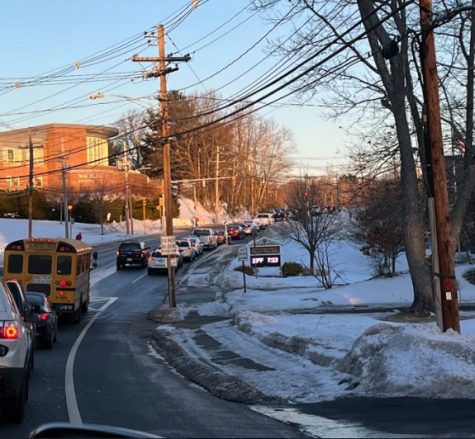 As a parent of young children, Drew said she has to seek out other ways to avoid the traffic getting to work.
"I actually pay my daycare extra to drop my kids off earlier to get here on time," said Drew. "And I come from the Rutland side. I've heard the Holden side is only worse."
Holden police officer Daniel Contois said he tries to tame the dismissal traffic.
"I try to control it in the afternoon the best I can," said Contois. "When I'm on 122A I can stop the busy traffic flow from the multiple towns and highway access to let out buses and commuters. It seems to work quicker."
But not many solutions can be found to help people get to the school in the morning.
"It's like trying to pour 10 gallons of water into a small funnel at once," Contois said. "Everyone is just trying to get to the same place at once and it leads to a bottleneck. There is really no solution to it."
Senior Katie Duggan, who drives to school each morning, said she had a suggestion. 
"Maybe the town should think about adding a second light at the main entrance," said Duggan. "The town definitely needs to do something."
Junior Emily Cosenza expressed how dangerous it gets because of cars just trying to pass the traffic.
"There was once a truck that passed me in the breakdown lane," Cosenza said.
Drew agreed.
"I definitely feel bad for the cars just trying to pass in the mornings, or any car just trying to get by," she said. "At least we know how much longer because we get closer and closer while waiting, others do not."
Pratt said traffic congestion has been a recurring issue over the years.
"This situation has been a constant struggle throughout the eight years I've been here," said Pratt.