Female athletes persevere despite limited recognition
This past fall, the varsity girls cross country team placed first at Districts, fifth at the Division 1 State Championship, and 18th at All States. During the winter, the varsity girls track team placed first at Districts and second at the Division 1 State Championship. Two female relay teams placed in the top ten at the New Balance Indoor National Championship. 
The varsity field hockey team had an undefeated regular season, competed in the  Central MA Tournament semifinals, ranked as high as fifth in the state in Division 1, and participated in their first ever Elite 8 MIAA Tournament berth in school history. 
This winter, the varsity girls basketball team had an undefeated regular season record, beating teams by at least seven points or higher per game. They also ranked as the number two team in the state in Division 1 basketball and competed as a final four team in the Elite 8 MIAA Tournament.  
In 2020, five varsity female swimmers qualified for the Sectional Championships, and had two events break the school record at the State Meet at Boston University. This winter the team qualified the 400 Freestyle and 200 Medley Relay for the state meet. 
Last spring, the varsity girls softball, tennis, and golf teams all qualified for their respective MIAA sanctioned tournaments.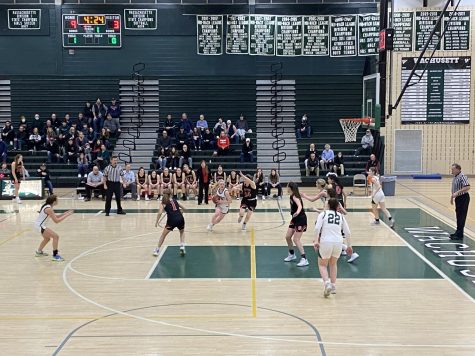 In fact, every varsity female sport has qualified for the postseason since the spring of 2021 –  all with little to no recognition. 
"If you are friends with people on the team you know. But if not, we are only announced on the morning announcements, but no one ever listens," said senior and varsity swim captain Courtney O'Rourke. "We don't let it faze us. When someone is having a good race or even having a bad race, we always cheer each other on. But, it's still tough [not being celebrated by the school]." 
As the captain of the varsity girls golf team, O'Rourke said that when the team placed second at districts last spring and qualified for the North/Central/West Sectional tournament, recognition by the school felt scarce.  
"[Girls] golf doesn't get recognition either. It's honestly even worse. No one knows. They [the school] only do announcements," said O'Rourke. "We have the same mentality as the swim team. We encourage instead of letting it get to us."
Sophomore varsity basketball player Mary Gibbons said she has made the same observations.
"It [lack of coverage] is definitely upsetting, but also annoying to see when results for our games are not played on the intercom and not shown on the TV in the cafeteria. I wish it could be announced that we have a game, or the team could be covered by the Student Media Club with film highlights like they do for the boys teams," said Gibbons. "But, it [lack of coverage] motivates us to play each game better and keep our perfect record, especially going into the playoffs."
Varsity girl's basketball and volleyball player, junior Emmy Allyn, agreed.
"We [girl's basketball and volleyball] are used to playing without it [fans]. We play because we love the sport. Many people attend boys events over girls events. Yes, we get more support in the playoffs, but it's great looking at the stands and seeing a crowd from our side," said Allyn. 
Senior and varsity girl's soccer and indoor/outdoor track and field captain Emily Raymond said that promotion and support remains low for female sports at the Regional. 
"Even when it comes to the stuff displayed on the TV in the cafeteria, there is no recognition. We kind of make it known through social media and through our respective sport communities," said Raymond. "But, for example, with girl's basketball, no one knows how good they are. They are insane. They are number one in the state. They are undefeated. The Badlands does not promote them, even though they had a playoff game at home right before the boys basketball team."
Senior captain of the varsity girls tennis team, Aizhan Moore, said that she knows the "left-out" feeling as well. 
"Last year we won Districts, but we were not acknowledged by the school or the Athletics Department. I don't even think administration knows," said Moore. "We don't even have a banner like the boys sports do. I feel like we are not valued by athletics. We had to celebrate such a huge accomplishment alone."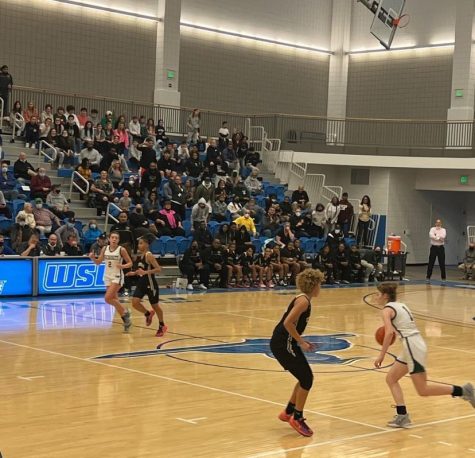 Math teacher Zachary Berman, assistant varsity boy's basketball coach and head coach for the boy's junior varsity one program, said he has witnessed the differences in support among varsity teams. 
"We [boy's basketball] have a pretty regular fan base even with the restrictions. Recently, we have traveled well both at home and away," said Berman. "Truthfully, football, hockey, basketball, and soccer draw the biggest crowds. There is a drop off regardless of how it [the sport] is represented." 
According to O'Rourke, the hardest part of her high school sports career came when two swimming school records, one of which she helped break, did not get updated by the school.
"At States in 2020 my sophomore year, my former teammate broke an individual school record and my 400 meter Freestyle Relay broke the school record. That teammate pushed for the school to get the records changed, but was disregarded. The signs where the records are hung have large holes in places, and had not been updated even with the new records," said O'Rourke. "My teammate pushed on it for so long before she graduated last year to fix it. They eventually did. But it is an accomplishment for us as athletes and for the school. I don't know why it took so long to change." 
Female athletes said they try not to let the bitterness overshadow the enjoyment of playing a varsity sport. 
"It [being on a team] gives me a sense of purpose, being a part of something bigger than just the sport, being a part of a team and being a leader is just like being a part of a family. You are going to have to work for your spot, nothing is going to be handed to you,"  said Raymond.  "But don't stop when you get there, you have to give more."
Varsity field hockey player, freshman Lily Staiti agreed. 
"Playing sports is just part of who I am," said Staiti. "I'm only here for four years and there is so much offered at our school.  I just want to take advantage of all the opportunities."