Numbers in the cafe signify upcoming end to high school for class of 2022
Beginning in March, numbers have loomed over the cafeteria each day, as the tradition of counting down the last fifty days of school for the senior class has begun.
"[Graduation] is a reality that I'm not ready for; it kind of doesn't feel real," said senior Dakota Boucher.
On March 2nd seniors attended a "50 Day Party" where students made countdown posters to be displayed in the cafeteria.
"It was the first time the senior class had a chance to get together since Covid," said assistant principal and senior class advisor Michael Pratt. 
Seniors who signed up to make a poster came to the school to eat pizza, drink soda, and create posters with meaningful themes and designs. 
"We wanted 22 for Taylor Swift and her song and our graduation year," said senior Abby White.
Other soon-to-be graduates also chose musicians as their inspiration. 
"We did the '27 Club,' which is a group of artists who died at the age of 27 and we dedicated it to Kurt Cobain," said senior Katelynn Galena.
Some upperclassmen said their designs had a more limited audience.
"We did 'Cloud 9' as an inside joke within our friend group," said senior Ava Towle.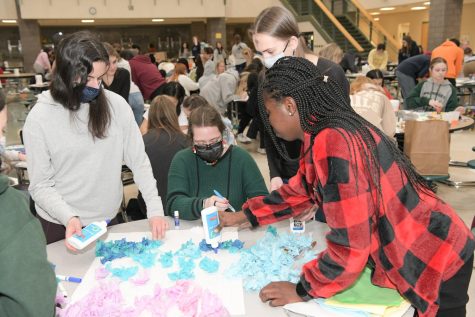 Younger Mountaineers said they have noticed the new cafeteria "decorations".
"It's a little different because we're freshmen, but I like seeing the posters," said freshman Charlotte Brisbois.
The fifty day countdown provides a daily reminder of just how little time remains in the year for seniors.
"It's coming to the end of school as we know it and college is going to be very different," said White.
Staff members said they, too, can feel the emotions connected to school ending. 
"As the countdown goes lower and lower, you can feel the excitement and energy in the air. It makes me happy knowing the seniors are moving on and juniors will be coming up next year to experience the same excitement," said study hall monitor Jenna Pierce.
Eleventh graders said they will be ready to take on their new roles at the Regional. 
"I think it will be weird," said junior Annabelle Joyce. "But I'm excited to be the oldest ones."