Wachusett temporarily terminated track home meets
Varsity sports teams thrive off the echoing cheers from their fan base when competing here at the Regional. But this year, the track team could not experience the home field advantage. 
"It certainly was too bad that we didn't have any home meets, especially for our seniors," said Social Studies teacher Sarah King. "There is something to be said about people [other teams] at your 'home' and to feel proud about representing your school."
Due to the team being unable to host home track meets, the seniors could not have a senior night. 
"It is disappointing because the team couldn't celebrate our seniors as all the other sports have," said varsity track member junior Olivia Pickett, who has competed for the past three years. 
According to varsity track coach Michael O'Malley,  the school decided the facility does not meet a competition-worthy standard.
"We are no longer able to run an efficient track and field meets on our facility, and didn't feel it was in the condition needed to host other teams," said O'Malley.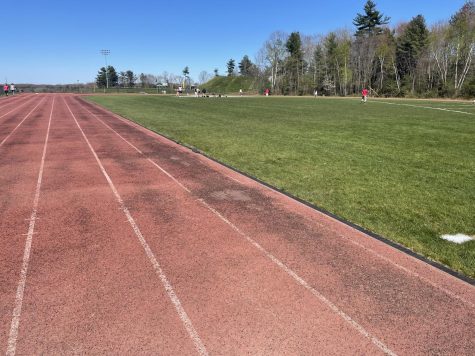 Senior track member Gavin O'Connor said the poor condition of the track has caused multiple low leg injuries.
"Due to the condition of lane one, it is easier to wipe out and it can destroy your spikes because the foundation is too hard," said O'Connor. "Having a new track would help us train more like we would perform in races."
O'Malley acknowledged that training proved difficult this season.
"The quality of our facility affected the quality of our training," said O'Malley. "It led us to modify some of our training during practice sessions."
Senior Kenichi Gomi competed as a distance runner for the varsity track team.
"Having a new track will allow us to fully utilize it for workouts and practice," said Gomi. "It should definitely help improve the skills of each athlete, which hopefully will be reflected in their races."
King said she tried to stay positive while supporting her twin sons Benjamin and Timothy, who compete in the javelin and discus events for the track team.
"You have to learn how to roll with the punches, but also ensure that things get fixed when they need to be," said King. 
With a new track in the future, the athletes will have a better facility to train on, boosting their performance.
"In the following years, a new track may be able to improve our times and make it so we can have home meets," said Pickett. 
Freshman Rahma Giwa said that although the situation can be frustrating, it doesn't stop the Wachusett athletes from doing their best. 
"Personally I don't think it is a big deal," said Giwa. "Whenever we go to meets, we win."