Badlands benefits student athletics
All across Massachusetts, there are student cheering sections for sporting events that attract hundreds of teenagers for games. Based on social media, these sections look like the place to be. 
The Regional's student cheering section, called the Badlands, is a student-led organization claiming to be the loudest fan section in Central Massachusetts, according to their Instagram.
Physical Education teacher and department head, Kevin Briggs, has been an assistant coach on the football team since 2005 and has enjoyed the Badlands over his decade of coaching. 
"I love it. It's great to have a set group of kids to create themes for the games," said Briggs. "It's really beneficial for other sports teams, besides the big teams where people would already want to go to the games."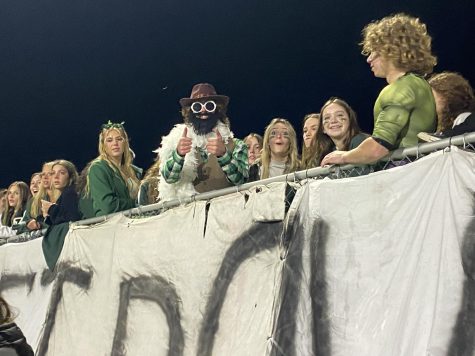 As a member of the varsity soccer team, senior Wiktoria Ucher always seems to notice when the Badlands come to her games.
"You actually really feel the school spirit and it's like the students really bleed green. People cheering your name is an insane feeling," said Ucher. "It is the most high school experience. Like in the movies, that's what it feels like."
Sophomore football player Joseph Raeke agrees with another perspective of an athlete.
"Standing on the sidelines hearing everyone cheering makes me think 'wow this is nice' and that energy really gets me going for my game," said Raeke. "I would tell incoming freshmen to play a sport to experience the Badlands instead of just being in the stands."
Freshman Tierney Brush likes the sense of belonging the Badlands gives.
"It's a great way to spend your night; it's the way better thing to do. Everyone goes to the games to be a part of the themes and school spirit. It really is a lot of fun being in the stands," said Brush.
Badlands administrator and Physical Education teacher Krissy Teevans allows the seniors to pick the themes for the events. "I think most kids love and want to be part of the Badlands, in one capacity or another, because it is a time when the students can relax, unwind, socialize and have a lot of fun while supporting our Wachusett Athletic Teams," said Teevens. "It is the one time that all four classes come together as one."