Fall sports experience changes on and off the fields
Most students admit that sports at the Regional have impacted them in one way or another.
"Personally, it has made me believe that when I set my mind to it, I can achieve anything with hard work and determination," said junior Joshua Lancaster. "For the rest of the team, although it's not as tight as previous years, we have a tight bond with each other, and we have always and will always work together to complete our goals and motivate each other to be the very best runner that we can." 
Junior Ella Grady agreed.
"Regardless of if you play the whole game or just a minute, everyone works together to become a strong group of athletes, and we have really become a family through all of this," said Grady.
Because of the coronavirus, however, the fall sports season looked and felt different. 
"All sports are dealing with some of the same things, such as wearing masks during practice and competitions, 90 minute practice session limit, a limit of practice and competitions only five days a week, and a limit on the number of spectators allowed," said cross-country coach Mike O'Malley. 
According to athletes, specific changes to each sport affected this year's competitions.
"In field hockey specifically, we usually play an 11 vs. 11 game including the goalie, and it was changed to a 7 vs. 7 including the goalie. As well, there are no penalty corners allowed this year, so any penalty inside of the shooting circle by the defending team is instead a 25 yard free hit coming into the penalty team's goal," said Grady.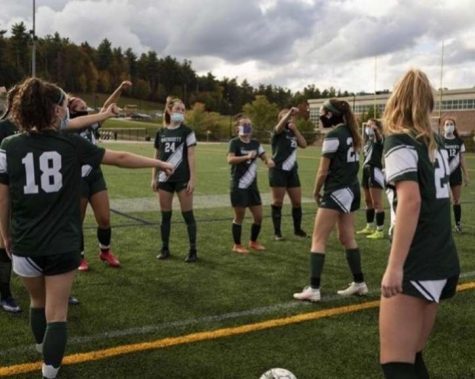 Soccer had similar changes as well. 
"We only play 4 other teams with a total of 8 games in the regular season and a possible 'pod tournament', but we are all used to a 20 game season and then the district and state tournaments. We also aren't allowed any deliberate contact, there are no throw ins, and we can't head the ball," said Bierfeldt.
Cross country had larger changes that have impacted the runners.
"Runners start their races in waves. In a duel meet (one team vs another) the top 5 runners of each team go off and then 2 minutes later, the second half of the varsity runners go,"  said Lancaster. "There is also a noticeable difference since we don't use the weight room at all, the races can be more stressful, and that same feeling during a big cross country race isn't there at all."
Athletes said their own attitudes changed as well.
"At first this was a really big change and it was hard to work with, but after doing it for a few weeks now, it just seems normal, as crazy as that sounds," said Bierfeldt. "Although this is all different, we still go into everything with the same competitive attitude, but also are trying to balance it with having fun because we never know when it will be the last time we meet."
Freshman Adriana Rosario agreed. 
"The atmosphere at games is different because there are not as many spectators and since we are trying to keep contact at a minimum, it is not as aggressive as it would normally be.  The game overall is still the same in my head but on the field, it is not."
Coaches said they tried to give the season a positive spin.
"The changes are the same for everyone, so we make the best of it. It's great that we have any kind of a season to participate in," said O'Malley. "We don't know what will come our way next season, or the one after that, so we will enjoy this one for as long as we are able to."