District turns the bus around on hybrid learning
Mountaineers expected to enter the building for hybrid learning on Thursday, November 18th. But, at the last minute on Tuesday, November 16th, the Wachusett Regional School District School Committee voted to postpone the start of in-person learning to at least January 19th.
"I'm disappointed about the school [committee's] choice to stay remote, but I understand that right now, it isn't safe for students to go to school, and that choice was made in everyone's best interest," said freshman Lucy Patterson.
Junior Emerson DiSalle agreed.
"I think that the school [committee] made a good choice to stay remote because COVID cases are once again rising and people being in person would increase the risk of it spreading," said DiSalle.
WRSDSC chairman Megan Weeks provided insight into the committee's decision.
"The meeting on Tuesday came as COVID-19 numbers are growing exponentially in the Wachusett region. During the meeting itself, we heard from experts in the field as well from our own members and ultimately voted to delay the reopening of school buildings to protect the safety of staff and students," said Weeks.
Math Teacher Ellen Beccia said she agreed with the decision.
"My daughter is an epidemiologist, and has done Covid tracing," said Beccia. "She always stressed about trusting the medical professionals which have been encouraging to avoid large populations as best we can. I was not surprised by this decision, and fully support it."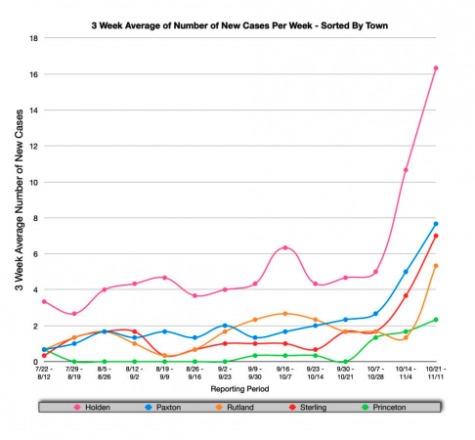 According to WRHS 2012 graduate and Senior Data Scientist for the COVID-19 Health Care Coalition (C19HCC) Kristin Fitzgerald, staff members will face additional concerns when in-person learning begins.
"While students are far less likely to have a severe case of COVID-19, they do have the ability to spread the virus to other individuals who may be at a higher risk of hospitalization or death. For example, a Kaiser Family Foundation analysis found that 24% of teachers are at greater risk of serious illness/potential death from COVID-19 due to age or underlying health conditions," said Fitzgerald. 
Paxton Board of Health Director Julia Pingitore, who spoke at the school committee meeting, highlighted the difficulty of the situation.
"I applaud the school committee for their brave leadership. Sometimes the best decision is also the hardest decision to make, particularly when it may differ from public opinion. The coming weeks are likely to be difficult for everyone, but I believe the decision made by the school committee this week will prove to have been the best answer amidst a sea of bad options," said Pingitore.
According to principal William Beando, the high school spent weeks preparing for hybrid learning.
"We feel as though our building was prepared and protocols are in place to successfully have done so if we had returned on 11/18," said Beando. "However, we want to also ensure that all of our students and staff will be safe and we need to do what we can to limit the spread of this virus within our school and greater community." 
Several students said they received little to no information from the district about the hybrid plan.
"Hybrid felt very rushed and was filled with a lot of uncertainty. Even though I personally was not planning on going hybrid, many of my family members and friends were and they were very stressed about the lack of information they were given so close to the start of hybrid learning," said sophomore Gabrielle Case.
Senior Rebecca Lovejoy agreed.
"I think the decision to move hybrid to January is a good one because the hybrid model was hastily planned and there were a lot of questions and confusion surrounding it," said Lovejoy.
Many students expressed concern about the mental health repercussions of staying remote.
"The mental toll normal school pays on students is already quite high," said senior Annabelle Thibodeau. "With the increase of homework because of teachers believing we have more time, these anxious students need more time to recover after online classes to feel a normal mental state again before they can start working and being productive." 
Sophomore Ahlanna Berryman agreed.
"Remote learning has definitely affected my relationship with school seeing as my grades, mental health, and desire to learn have all been negatively impacted," said Berryman.
Administrators said they feel particularly bad for both the youngest and oldest students in the building. 
"Although we miss all of our students it is hard to think that we have freshmen that have never been in this building and now won't do so until January 19, while also considering our seniors may only have four months of their senior year left upon returning," said Beando.
Freshman Sarah Cox said that despite her disappointment, she understood the reason for the sudden change in plans.
"I was going to go hybrid since I wanted to be able to meet all my teachers in person and get to know the school. I felt that if I went hybrid I would get to experience my freshman year more than I am currently with it being remote. I think that it was a good decision based on the current number of COVID cases in the state and the country," said Cox.
English Teacher Christine Hicks said that the situation has seemed surreal.
"The first time I walked into my classroom this September, with only twelve desks aligned in rows, it became abundantly clear that we were no closer to getting back to some semblance of normalcy," said Hicks. "As a faculty, we completed ALICE training and lockdown drills to protect our students. We have fire drills to ensure safety. However, we do not, at this time, have the means to protect each other from the invisible threat of Covid. We need to protect our students and community by remaining in remote learning. Someday, we will emerge from this pandemic and return to the schools we love, but for now, we must continue on a path of patience, kindness, and grace. And of course, wearing a mask."
The views and opinions expressed in this article by Kristin Fitzgerald are her own and do not necessarily reflect the official position of the C19HCC or her employer