Technological issues emerge during remote learning
December 16, 2020
To say it simply, this school year has been different from what anyone could have imagined. With this unprecedented situation, certain challenges arose, particularly with students' Chromebooks.
"I think that it's obvious that this is all less-than ideal and it isn't helped by the ongoing issues. My Chromebook has had problems from the first day I got it, as did the Chromebooks of most of my classmates, but these problems were magnified by remote learning," said sophomore Sydney Mentzer.
Chromebook issues have affected all Mountaineers – from students to teachers.
"Teaching remotely with Chromebooks has been a hassle. I think many of my students, as well as my own son, have had issues with staying connected during class or with malfunctioning microphones and/or cameras," said History teacher Tess Hickey.
Underclassmen have complained that their learning could be adversely affected when the technology doesn't work.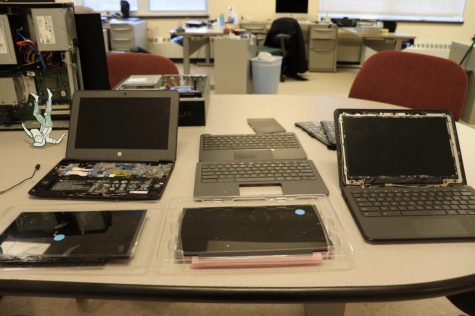 "Students may miss important content because they were kicked out of the meeting that I had no trouble getting. Students are already pushed way past their limits with the abrupt switch to online learning and the sudden changes in the world around us. We shouldn't also have to worry about whether our Chromebooks will allow us to go to class each day," said Mentzer.
Senior Hannah Peloquin experienced some issues with her Chromebook as well.
"My school chrome book has not had any major connection issues but there have been a few times where I get kicked out if Zoom meetings or that my audio doesn't work," said Peloquin.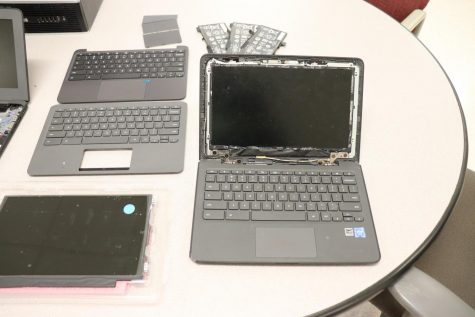 Even though some students had issues with their Chromebooks, most teenagers admit that the technology has still been useful.
"I dislike how glitchy it [my Chromebook] gets and how often I have to restart it to get it to work," said freshman Annmarie Kane. "[But] I am mostly satisfied with my Chromebook. Other than some technical issues, it has worked very well."
According to faculty members, exposure to Chromebooks in previous years actually helped to smoothen the transition to remote learning.
"One thing that was a great help with remote learning for WRHS was having already completed our 1:1 Chromebook Program – we had a computer in the hands of every student. Last spring, when it became clear that remote learning was going to be necessary for schools across the country, it was (and remains) very difficult to purchase Chromebooks and other devices related to remote learning. The demand has vastly exceeded the available supply," said Technology Associate Paul Latino.