Student artwork enhances Bowes Gallery
Remote learning turned the once brightly filled Bowes Gallery into a vacant room. But six months after Mountaineers returned to school, the glass enclosed space has been brought back to life with vibrant art pieces. 
"It's been such a busy year. But we weren't giving up on the opportunity to display their artwork," said art teacher Suzanne Breen. 
Students in the school's Lifeskills program can enroll in the Exploration of Fine Arts class, where they collaborate with both teachers and classroom learning assistants (CLAs) to complete different artistic projects. 
"All of the students brought a smile to my face. The connections that I made with all of them, always made my day so much better," said senior and Classroom Learning Assistant Devyn Brenner. 
The Exploration of Fine Arts course gives students enrolled a chance to express themselves through their work in a safe and productive environment.
"The class shows that everyone has a creative side to explore," said assistant principal Victoria DeSimone. "Art relieves stress and anxiety while being able to share sides of yourself in a way that you feel comfortable doing." 
Breen said the course teaches more than art concepts. 
"They [Lifeskills students] learn skills they'll need for their life – skills they can do independently," said Breen. 
Near the end of the first semester, students filled the art gallery with the work they created.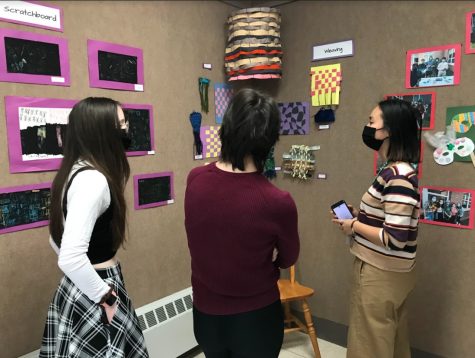 "I hope people see how hard the students worked on their artwork throughout the semester," said Brenner. "I hope they learn a little about the students in the class through their artwork and the pictures that were taken throughout the semester." 
The gallery has left a strong impression on other art students at the Regional.
"The artwork adds personality to the school and helps the students express themselves to other students in a way that makes them feel comfortable," said junior Megan Crossin.