Magazine contributes creativity to school community
Featuring written and visual pieces from Mountaineers of all ages, Wachusett's art and literary magazine, Rhubarb Pie has proven to be a valuable addition to the school community. 
"Our main mission is to give a voice and creative outlet to students," said English teacher and Rhubarb Pie faculty co-advisor Emily Reynolds. 
Rhubarb Pie includes numerous poems, short stories, and artworks every year. But, due to the pandemic, publishing in 2020-2021 has been more difficult. 
"It's made it more challenging, trying to get the word out about the magazine," said Reynolds. "It's also made the responses more meaningful as it's a creative outlet for kids during difficult times."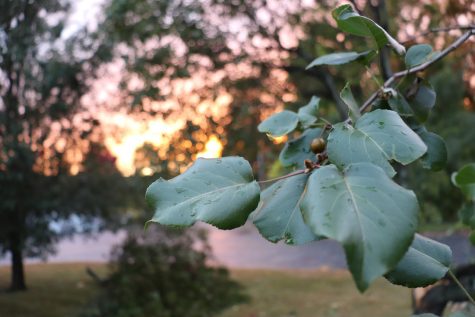 This fall, sophomore Christine Boadu submitted the poem "Where I'm From" to Rhubarb Pie.
"I feel as though not a lot of people know about the feel or the culture of Africa. Everyone mostly assumes that Africa is a jungle, with villages, and with no modern technology, which is not true at all," said Boadu. "It is a place teeming with life in a modern setting just like the rest of the world. I just wanted people to get a taste of what Africa is like and hopefully, encourage others to do research about the wonderful continent and its many cultures and history." 
English teacher Karl Hartshorn, co-advisor for the club, commended those students who submit work to the magazine.
"It's a little intimidating having an audience for things you create or produce. But the payoff can be really great," said Hartshorn.
Boadu agreed.
"I believe Rhubarb Pie is important for Wachusett. It allows for free student expression and lets other students see the creative side of our peers," said Boadu. 
Tracing its origins back to Wachusett's literary magazine Reflections, Rhubarb Pie has been around since 1969, giving students a place to publish their work and make their voices heard.
"Seeing all the amazing things that students create is really mind blowing," said Hartshorn. "We enjoy working with students' work in an outside the classroom capacity. Rather than looking at their work as teachers, we can just enjoy what students create."