Artemis Club Advocates for Women
At the beginning of the 2022-2023 school year, high school seniors Molly McGuirk and Gabriela Hamburger Medailleu created the Artemis Club in order to spread awareness and educate people on the signs of sexual assault. The Artemis Club is the only current club at Wachusett whose sole focus is on women's rights. They said that they wanted to improve the lives of victims, and offer resources on how people can protect themselves from these situations before they reach college.
"There are consistently stories about domestic violence in Worcester," said McGuirk. "We wanted to help prevent it by spreading information."
Medailleu, Artemis Club co-founder, shares a similar passion for women's rights. 
"We definitely wanted to bring light to women's issues," said Medailleu.
According to McGuirk and Medailleu, they have received significant support from the club's advisor, Lynn Leschke. Based on prior experience with Ms. Leschke as a teacher, they said they knew she would be supportive of the cause.
"She was very open in her classroom about injustice," said Medailleu.
Leschke said that she was impressed by the goals of the Artemis Project, and wanted to play a part in helping the Artemis Club be created.
"The more that people know about people's rights and the rights that are being taken away from women, the more we can fight to protect those rights," said Leschke.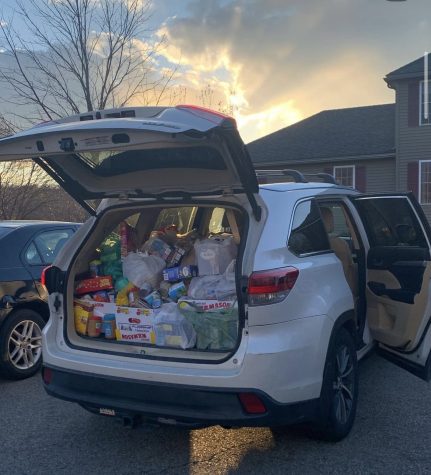 As a part of their "Save the World Project" for AP Language Class, the two students developed the idea for a non-profit organization called the Artemis Project. It is a non-profit local organization, and the Wachusett club supports that non-profit. 
"We wanted to do something that wasn't really touched upon," said McGuirk of the reason for this focus for their project.
In current events, women's rights discussions are happening all over the world, especially amongst the young adult generation. 
"Our mission is to create a space where women's health and suffrage is talked about," said Medailleu.
Over the summer, the Artemis Project organized a Women's Rights Protection Rally, which was held at the Worcester City Hall.
"It was the second largest rally in Central Massachusetts," said Medailleu.
Taking place seven days after Roe v. Wade was overturned, the rally created a space for people to speak freely and share their stories about women's rights. 
"It was super impactful," said Medailleu. Around 200 people showed up to the rally.
McGuirk, who was also in attendance, was also inspired by the rally.
"Everyone was supportive," said McGuirk. "There was a feeling of unity."
Open discussions, food drives and protests take place during the Wachusett Artemis Club meetings. The club meets every Monday in room C212.
"There is very, very strong dedication with people who have joined," said McGuirk.
Club member, senior Colin Lemire was motivated to join because of contemporary women's rights issues. 
"I wanted to support people who need it," said Lemire.
The discussions during the club's meetings seek to inform its members about new issues, and address biases.
"It is open to everybody," said Medailleu."I definitely feel like I've left meetings opening my mind a little bit."
In addition to in person meetings, McGuirk and Medailleu also strive to reach people through social media, where they can be found at @theartemisproject_ on both Facebook and Instagram.