Virtual music performances accent pandemic affected year
Every department in the Regional has had to make significant changes in order to adapt to a year defined by the coronavirus. For the music teachers, that meant organizing online concerts and rehearsals.
"Creating a musical performance in the virtual world is very difficult," said orchestra teacher Doug Miller.
Before hybrid learning began, music teachers had to learn new technology – and quickly came to the conclusion that performing as a group in person proves much easier than playing over laggy microphones and computers that seem to crash regularly. 
"I have learned lots on the tech side because of COVID-19, but it was not always easy," said Miller.
Music teacher Jared Bloch agreed.  
"Some of them [the apps and programs] I may have never even discovered or tried out if it weren't for remote and hybrid learning, so it is great that I now have these extra tools at my disposal," said Bloch.
With the regulations still in place at the time, an in-person concert could not occur. To solve that problem, the music teachers asked each musician to record their parts, and then used an online site to compile these recordings into one cohesive performance.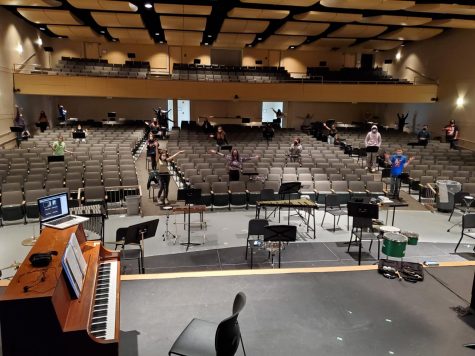 "While the virtual performances are great in their own way, they will never replace the authenticity and excitement of a live musical performance," said Bloch.
Some students said they adjusted to the conditions with few problems.  
"Getting into the new system was surprisingly ok," said senior Julia Yahres. "It took some time, but we created a pretty smooth process."
Along with musical performances, the theatre program has also been affected with no shows being produced.
"This year's Sculpture students are missing the opportunity to see what it is like to work in the world of theatrical design," said art teacher Suzanne Breen, who assists with designing props and sets.
According to teachers, being a high school musical performer during the pandemic proved to be an experience that no one will forget.

"I have to thank all my students for all their hard work during this difficult time," said MIller. "And for putting up with me as I learned how to navigate in the new tech world of education."