Spring musical shakes up traditional theater with classic rock
The high school's spring theater production, All Shook Up, can't be classified as a traditional musical as the set list consists entirely of songs by Elvis Presley. 
"You tend to think of people belting [out songs], but this year it [the musical] is more rock focused and Elvis, which is so different for a musical, which I love," said junior John McAuliffe. "It is very interesting to see how it [modern music] is integrated into the musical style."
Some thespians said they welcomed the change in songs – even if it added extra pressure to their performance. 
"The music gives more of a connection because everyone knows who Elvis is. But it also makes messing up more obvious because everyone knows Elvis music," said senior Dakota Boucher.
Underclassmen performers said they believe the audience will enjoy the production. 
"I think while you recognize the songs, it [All Shook Up] still has that musical theater vibe to it," said sophomore Sofia Doucette.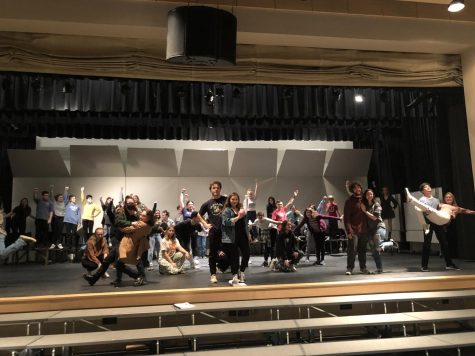 Despite the modern music, All Shook Up does not focus on the events of Elvis's life.
"It [the musical] is about a motorcycling roustabout [unskilled laborer] that comes to a dreary town after getting out of jail and stirs up the town," said honors choir and band director Sherri DerKazarian, who has assumed the role of musical director this year. "It all happens in one day."
All Shook Up offers a way for student actors to step out of their comfort zone. 
"It [the musical] is a fun way to express yourself creatively," said McAuliffe. "The community built around it is one of the best. It has made me a lot more social and able to talk to people more."
Both the freshman and sophomores experiencing the production of a high school musical for the first time said that the experience has been fun. 
"I'm pleasantly surprised because people here are much more dedicated than they were in middle school," said freshman Isabella Rossi. "I love the people so much."
This year's musical also included two other changes – a new director and a new choreographer.
"The new [dance] director [Lindsey Thunberg] is more easy-going so there is less pressure on being perfect the first time," said Boucher.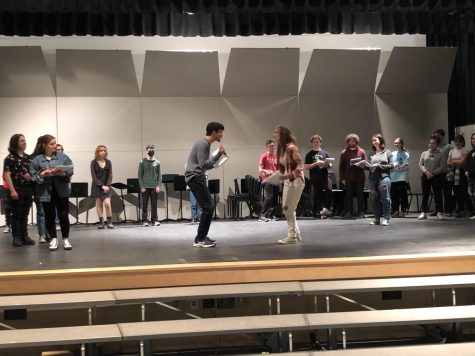 Other cast members said they have also noticed a difference while at rehearsals. 
"The way we are structuring is cool because there is not as much sitting around this year. We are working more efficiently," said senior Emerson DiSalle.
DerKazarian said that she is pleased with how the All Shook Up cast has been performing.
"They [the cast] are a great team and they have been super prepared and have set the tone in a positive manner," said DerKazarian. "It [the musical] should be fun, hard work, but fun."