Fun morning announcement idea syncs with positive energy
In the midst of a difficult academic and social emotional time, Freshman Seminar teacher Jason Kusy proposed the idea of a lip sync to motivate students and staff and spread positivity in the high school.
"I think as educators, students and administrators we're all struggling in these uncertain times. I was hoping that the lip sync challenge would bring us together as a school community. I thought it was important to try and find ways to connect with our students through laughter and music," said Kusy. 
Kusy said he did not know how well his idea would be received. 
"I didn't know what to expect to be honest. I was just trying to find ways to lift our school's overall morale. I know that a lot of students and staff are struggling emotionally and I was looking to find ways to help people smile,"  said Kusy.
Mathematics teacher Jessica Daoust agreed with this sentiment and immediately accepted Kusy's offer to be a part of a lip sync video.
"I wanted to spread positivity and be a good role model," said Daoust. "I want to be a good mom for my two children, and most of all be the best leader I can be."
Daoust said she thoroughly enjoyed recording the performance.
"I enjoyed making the lip sync. I love making kids laugh," said Daoust.   
Staff members had few limitations concerning song choice.  
"We just wanted people to pick songs that were of course school appropriate, and the whole idea was to let our students see their teachers in a different light. As educators, we are trying hard to make connections with all our students and it was cool to see the different genres of music and creativity week after week," said Kusy. 
Some of the staff chose particular songs that meant something to them and would be recognizable by everyone for the morning announcements. 
"Mrs. DeSimone chose 'Sweet Caroline' because it reminded her of spring and baseball, but most importantly it was a good crowd pleaser. Everyone knew it," said Daoust. 
Several students said they have also enjoyed this collaborative and creative idea. 
"I think that it was so interesting that the teachers decided to do this. It was a great way for them to bring some positive energy into the staff and students. It looked like they had fun performing and it was in my best interest to watch," said senior Alyssa Johanson. 
Kusy said this project exemplifies life at the Regional.  
"We are a family here at Wachusett Regional High School. You hear teachers all the time referring to their, "Wachusett Family"and this is especially true when we as a school community are struggling with adversity," said Kusy. "As a school, our students and staff have always always been able to rise to the occasion like the true Mountaineers that we are.  I truly believe we will get through this pandemic together and we will be stronger and wiser as a result."
Week 1  
Jessica Bahde, Jessica Daoust, Victoria DeSimone and Jason Kusy – "Sweet Caroline" by Neil Diamond
Week 2
Zachary Berman and Nathan Lenhart – "Eenie Meenie" by Sean Kingston & Justin Bieber
Week 3
Bill LaBaire and Erin DeStratis – "Going The Distance" by Cake
Week 4
Peter Cranson with Eric Chandonnet, Dan Paradise, Jody Clapp, and David Entwistle
"Twist and Shout" by The Beatles
Week 5
Angela Colwell-Arbour – "You'll be Back" from the musical Hamilton
Week 6
Kaitlyn Foucher and Brady Townsend – "We Belong" by Pat Benatar
Week 7
Megan Will – "Oops I Did It Again" by Britney Spears   
Week 8
Kevin Briggs, Derek VanOudenhove, Brian Majoy and Phil Jackson – "Ice, Ice Baby"  by Vanilla Ice
About the Writer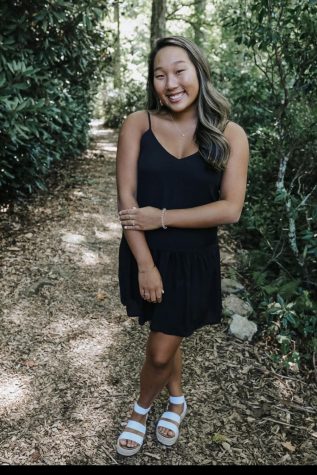 Bethany Elias, Staff Reporter
Bethany is a senior who lives in Rutland. She loves spending time with her friends, and going out on car rides and listening to music. She spends most...