"Brilla Coffee": The New Holden Hotspot
For years, many students have loved spending half days walking around the center of Holden and going out to lunch with friends. Now, teenagers have another spot to spend their afternoons – Brilla Coffee.
Junior Ailish Coleman said she enjoys the energy of the cafe. 
"It's a nice homey place to get good coffee and just hang out," said Coleman. "It's definitely more comforting than a chain, like Starbucks." 
Sophomore Sophia Landeo said she also likes the coffee shop's environment.  
"The vibe is very chill and new. People talk about it all the time," said Landeo.
Assistant principal Michael Pratt, a Brilla customer, said he likes the cafe's ambiance.
"Dunkin' wants you in and out, but Brilla has a more inviting atmosphere," said Pratt. "Whenever you walk in, there's people on their laptops, people doing homework, or people just chatting."
In addition to their specialty beverages, Brilla also offers a lunch menu.
"They have a lot of really good drinks, but they are a bit expensive," said senior Emerson Allyn. "But I absolutely love their quesadillas. They honestly have really good food." 
Building substitute teacher Elizabeth Savino said she appreciates Brilla's proximity to school. 
"Their new location on Main Street definitely makes it more walkable," said Savino. "They're unique and a lot closer to the school, which is why I think many kids go there instead of Dunkin'."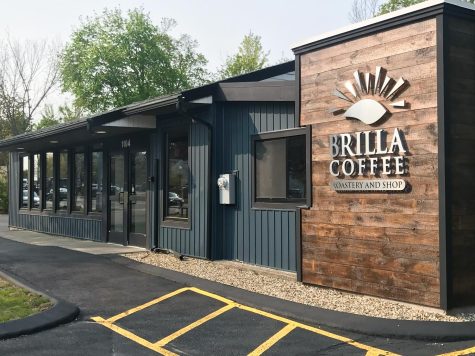 Brilla also sells their own ground coffee, with flavors like Birthday Cake, Cafe Diego, and Chocolate Fudge. 
"I usually get my coffee grounds from there. I think they're great," said Social Studies teacher Chelsea Blasco.
Physical Education teacher Kathryn Putnam said she finds comfort in the atmosphere provided by Brilla employees.
"The workers are so friendly. Whenever I go inside, it's all smiles. It feels like home," said Putnam. "I always find someone to talk to when I'm there. And I built a friendship with one of the workers. She always asks about my softball games and we just get to know each other."
Isis Miranda, sister of the Brilla Coffee owners, said she takes pride in her family's work. 
"Because we are a family-owned business, we pour our hearts into it," said Miranda. "We come from a family of farmers in Nicaragua, so the coffee comes from a place we know very well."
Brilla opens from 7 a.m. to 4 p.m. on Mondays through Saturdays and from 8 a.m. to 4 p.m. on Sundays.
"It makes me so happy seeing so many people who love our coffee. It's like mom's cooking. It makes you so proud," said Miranda. "Everyone is welcome."