Tricks and treats altered by pandemic weather
Despite cancellations of the trick-or-treating portion of Halloween in some Massachusetts towns, Holden, Rutland, Paxton, Sterling, and Princeton still allowed children to go door to door. 
"My sisters went trick or treating, with hand sanitizer and masks. We were trying to keep safe. We take COVID really seriously and we don't want to get sick," said sophomore Kaden Do.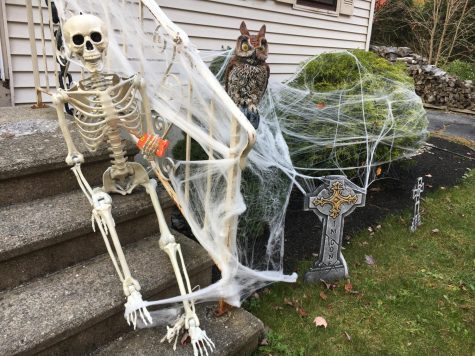 But other families chose not to send their children trick-or-treating.
"We usually [in past years] would go to friend's houses and go trick-or-treating," said said Math teacher Jennifer Collard. "Instead this year we had their [her kids'] cousins over for a Halloween party." 
Senior Mars Emery said she felt bad for her younger siblings. 
"It's terrible that my brother can't go out this year because of the virus. He's really upset because he thinks it's going to hurt the candy industry," said Emery. 
Some families came up with safer alternatives to trick-or-treating.
"My children and I played it safe on Halloween," said math teacher Jessica Daoust. "I hid candy for my children to find in our yard with glow sticks. Then we had a campfire."
The weather also affected this year's Halloween events with over six inches of snow falling on Friday, October 30th.  
"We received fewer pumpkins than we had expected due to the snowy weather and the rain on the drop off day," said senior and Student Council eboard member, Hannah Berry. "But the ones we received were so creative and it was fun to see the way people thought outside the box! A special shoutout to DECA for bringing in their pumpkins they carved at their own event."