Mountaineers reflect and remember those who served
On Veterans Day, many United States citizens did more than enjoy a day off. They celebrated the people who have courageously fought for and even sacrificed their lives for the sake of the country. 
"Veterans are proud to have served. It's nice to have a day put aside that recognizes the sacrifices that veterans have made. Your personal celebration could be as simple as saying thank you to a veteran," said Math Department Head and former member of the Army National Guard, Chris Brewer. 
Most students probably have no idea that five staff members at the Regional have served in the American Armed Forces: Math teacher Chris Brewer, Physical Education teacher Phil Jackson, Social Studies teachers Joe Jourdain and Janet Loefstedt, and maintenance worker Charlie Wagner. 
"The celebration of Veteran's Day should be to honor those that made the ultimate sacrifice for this great nation. Also, we should recognize and attempt to support those veterans who have sacrificed for the country that have scars both visible and invisible. How we care for these individuals is how we should be judged as a people," said Coach Phil Jackson, Physical Education teacher and former member of the US Army. "Only a very small percentage of Americans actually take the oath to serve this country. For many, it is something that is totally foreign to them." 
Several veterans said family history contributed to their own decision to serve the country. 
"I chose the Army National Guard because my father served in the Army and my neighbor, who was a captain in the Army National Guard at the time, told me about the educational benefits," said Brewer. 
History teacher and former member of the Massachusetts National Guard as well as the Army National Guard, Joe Jourdain, said that being in the Armed Forces has also been a family tradition.  
"My father served in Vietnam for two years. My father-in-law served in Korea as well. Currently, my oldest son is in the United States Air Force," said Jourdain.  
Despite the history of the holiday, some Americans have conflicted thoughts on what the day should represent. 
"There is a pattern in American history of some of the poorest people being asked to sacrifice so much, while the wealthy can evade service. The inequities in our class structure are paralleled in the military itself. My other hope is that Americans think twice about the necessity or military conflict and the effects of that conflict on the people who are called to serve. There are costs that cannot be calculated on a spreadsheet," said Jourdain. 
Truly recognizing American tragedies can be difficult for citizens as so few national holidays center on lighthearted events.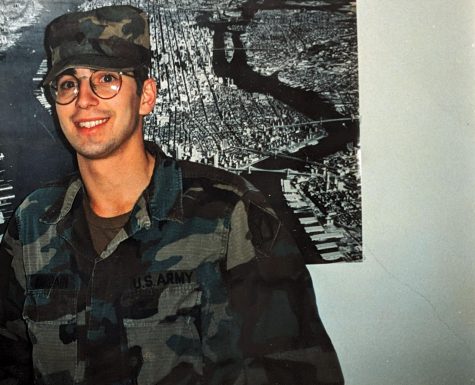 "Americans have so few days off compared to other industrialized societies that it is hard to fault them for wanting a break from work. So many of our public days seem to be guilt-ridden," said Jourdain. "I just wish we had more holidays where the only expectation was to have a good time and not to commemorate the various tragedies of our national history." 
Christopher Brewer – WRHS Math Teacher
Staff Sergeant, 20 years in the Massachusetts Army National Guard, now retired. Two
tours in Iraq during Operation Iraqi Freedom and Enduring Freedom. Deployed to Iraq
Feb. 2003 until April 2004.
Phil Jackson – WRHS Physical Education Teacher
Was a Specialist 4, Military Police in the U.S. Army.
Joe Jourdain – WRHS Social Studies Teacher
Army National Guard during peacetime. Joe was a Specialist of Supply Logistics,
figuring out how to get supplies around the world. He was a member of the state honor
guard.
Janet Loefstedt – WRHS Social Studies Teacher
Colonel, U. S. Army Reserve (retired), two tours of duty with Operation Enduring
Freedom in Afghanistan.
Charlie Wagner – WRHS Maintenance Department
U.S. Navy, Second Class Boswain Mate from 1966 to 1969. He spent 2 years in
Vietnam, one on land and one at sea.