White-out of snow days sparks debate
Most, if not all, students look forward to winter days when the phone rings and they hear the words: "Due to inclement weather, all schools in the Wachusett Regional School District will be closed today". 
But this academic year snow days have been replaced by remote learning days.
"I think snow days are a nice break for students and staff in our hectic academic year. I wish we could have a limited amount of snow days each year, maybe five days and then go to remote days if we go past five snow days," said guidance counselor Lauren Freeman.
Many students agree. 
"I love snow days and I'm sad that there aren't any this year. I look out the window and see beautiful snowflakes falling while I'm stuck indoors working. It would be nice to have a few days off and enjoy the snow before it melts," said freshman Alexandra Jacala.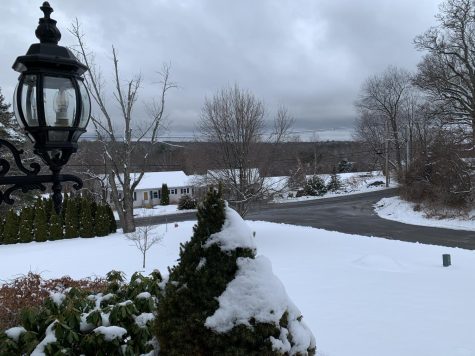 Other students who miss having snow days, said they found the time out of school helpful. 
"I feel like it is still beneficial to have snow days since parents might need help shoveling snow since they still have to work. In addition, I think that snow days were always nice to have since it gave everyone a surprise break and also time to catch up on homework," said freshman Sarah Cox.
Senior Muhsin Alnajjar said he feels conflicted about snow days during hybrid learning.
"I'm mixed on the idea cause I want snow and no school, but to be honest our year has already been cut short and all the curriculums have been cut because of the virus so I think a snow day is a bad idea when we can do school digitally," said Alnajjar.
Students said they understand that snow days can create problems – even in a normal school year.
"It's hard for teachers to plan around snow days. Also, snow days cut into summer vacation. Not to mention that many parents have to leave their kids home alone while they still go to work," said Jacala.
Even though teachers can still conduct remote classes on "snow days", many educators may no longer have access to the best technology.
"If a snow storm comes through the area during the time in which teachers are supposed to get to the school, then travel wouldn't be safe. Seeing as most teachers have moved their entire set up to the school, teaching from their homes wouldn't be sufficient, leaving us no choice but to have a snow day," said freshman Aiden Cirillo.
Even though many staff members and students would love to stay in bed on a wintry morning, they will end up having more time to enjoy the summer sun. 
"The major pro of not having snow days is that we will end the year in mid June rather than the end of June, like we have during years with a lot of snow days," said Freeman. "And this year we have all learned to work from home and can stay safe, instead of worrying about driving in bad weather."