Gridiron competition switches seasons, faces obstacles
Unlike past years, the football season at the Regional began not in September, but in March and faced unprecedented struggles. 
"The biggest challenge is that everything is out of my control. There's 100 guys on the team and all their families at home," said football coach Mike Dubzinski.
Football players said that spacing requirements have altered the social aspects of being on the team.
"I miss the camaraderie in the locker room. With COVID we have to get ready outside and some of the best memories are made before and after practice in the locker room," said senior varsity football player Liam Johnson.
Due to pandemic restrictions, each football player will only be able to invite two friends or family per game.  The student section known as "The Badlands" will not exist this year.
"It would be great to have the students and band at the games but that's just not an option at this time. Hopefully they will be back next September," said Dubzinski.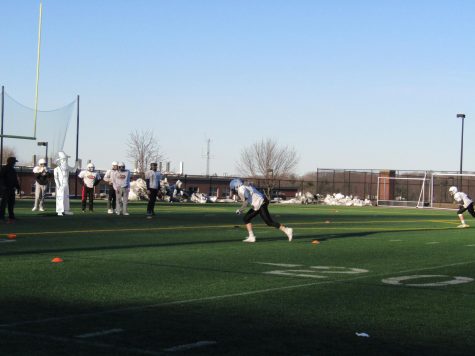 According to the coaches, the youngest athletes have had an especially difficult first season.
"The freshmen haven't had the atmosphere of seeing everyone in their jerseys on game day or having fall sports tryouts," said Dubzinski.
The players have also had to deal with changing practice schedules.
"They just want to get back on the field. Anytime I have to change practice time it's no problem for them. They just want to play ball," said Dubzinski.
Senior Luke Grady said he hopes to continue the winning ways of Wachusett despite the challenges the team faces. 
"We've always been one of the better teams around, always in the playoffs. I want to help continue that narrative," said Grady. "I can't wait to finally get back on the field. I've been waiting so long to finally play again. Playing with a mask on is going to be a challenge, but I'll do whatever I have to to play football again."
Saint Johns, Wachusett's biggest rival, won't be on the Mountaineers' schedule this season. Saint Johns moved from MIAA division III to MIAA division I for the 2020-2021 season.
Johnson said he looks forward to finally playing with his teammates again after over a year of no football.
"I can't wait to get back out there with all my friends," said Johnson.