Group of graduating musicians gratifies gatherings
Many people have a childhood dream of being a rockstar or a professional musician. Four Mountaineers have taken their talents and charisma to the next level in achieving their goals.
Seniors Satchel Moore, AJ Dionne, Carter Ramsey, and Kyle Gunning have made a name for themselves by creating the band Game On. 
"We started as just me and Carter and AJ basically in elementary school. So we started, I would say around fifth grade," said Moore. 
Later, the Game On Band developed as a whole when they booked their first real show.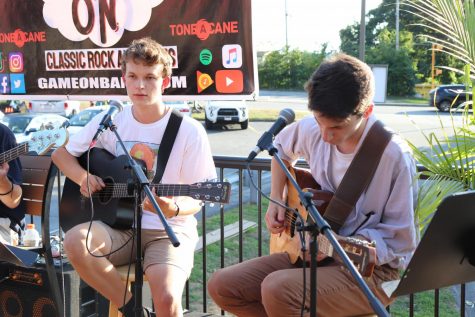 "Yeah, so we really started with the dances. I would say when we actually started being serious about it was at the Mountview dances," said Moore. 
Since then, the band has played at larger venues, like local restaurants and in-town events, such as the Rutland Fourth of July and Holden Days. 
"Last summer, we had a really, really great season because there were so many venues that just wanted us to play outside," said Gunning. 
One of their most well-known venues, the Specialty Sandwich Shop on Main Street of Holden, has enabled them to expand their fanbase. 
"It's a win-win situation for both groups involved," said Debbie Miller, an employee at Specialty Sandwich Shop. "They bring a lot of business to Specialty Sandwich Co. and they get to play."
Before Covid, Specialty Sandwich Co. had live music, and Game On had some especially positive reviews.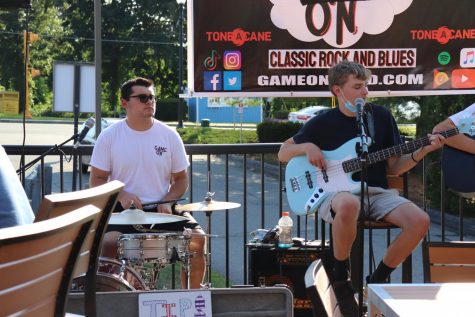 "You can definitely tell when a band influences a crowd there and they definitely do. They always had people show up to hear them play and they were very successful," said Miller. 
Although last summer happened to be a particularly good season for Game On, Covid has halted a lot of performances this year and prevented them from playing as much as they would like.
"This is usually not a down time for us, but because of Covid we haven't been able to play as much," said Ramsey.
Game On band members said they attribute their success to the family support they have received over the years. 
"I would say good mentors and good leaders such as his [Moore's] dad and a lot of people we met in the process of starting a band and playing have helped us get new venues and grow," said Ramsey.
Other band members acknowledged another support: their friendship. 
"I think another thing is the fact that we are already friends. I feel like we are friends before we're like band members so we know how to work well together," said Moore. 
Game On will perform on Saturday, May 2, 2021 at 12 p.m. at the Hardwick Winery.