Holiday season began with reduced surge of shoppers on Black Friday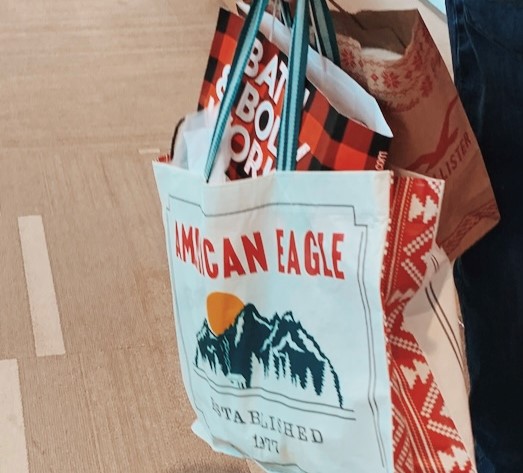 According to history.com, the term Black Friday originally described the crash of the gold market on September 24, 1869.  In the late 1950s and early 1960s the Philadelphia police used the phrase to describe the crowds of people who would come to that city to watch the college football game between the Army and Navy that would happen the Sunday after Thanksgiving.
Eventually, sometime in the late 1980s, retailers across the country took the negative-sounding name Black Friday and changed it to refer to the belief that the day after Thanksgiving was the first day in a year that their finances went out of the "red" (debt) and into the "black" (making a profit). 
No matter the validity of this term's origin, Black Friday has come to mark the beginning of the holiday shopping season for millions of Americans. 
Senior Angel Squier works at Old Navy at Whitney Field. 
"I worked from 12 p.m. to 5 p.m., and by that point the rush was almost over as everyone seems to go shopping in the morning," said Squier.  ""When I first entered the store to start my shift, there were a lot more people. but after a while, it died down."
The creation of online shopping websites, such as Amazon have put a dent in Black Friday sales. In 2019, for example, the National Retail Federation recorded that on Black Friday,  84.2 million people shopped in stores, and 93.2 million shopped online.
In 2020, the pandemic boosted online sales. Many stores that traditionally opened on Thanksgiving to allow for earlier Black Friday shopping closed.
This year, in-person shopping has still not recovered. According to CNBC, while the amount of in-store traffic increased 47.5% from 2020, it remained 28.3% less than in 2019.
"I didn't want to be anywhere near the stores on Black Friday, especially this year," said History teacher Jennifer Gaudette. 
But Senior Sarah Michael said she still went shopping – just not at her traditional time. 
"When I think of Black Friday, I usually think of waiting overnight in line. But this year, I just went later Friday morning," said Michael, who spent two hours at a TJ Maxx store.
Employees said they may be able to offer a reason for this season's change in Black Friday crowds. 
"Usually, there's a product that everyone wants, but this year there wasn't one," said Squier. "Also, I think people are still worried about going into stores [because of Covid], especially on Black Friday."