Rise of online gaming leads to competitive, noncompetitive clubs
Online gaming has been an exponentially growing industry in recent years. But with the pandemic, professional and amateur Esports have become more popular than ever with people of all ages.

The Regional now offers students the opportunity to participate in the Wachusett Esports club. 
"The club has been more popular than I had originally anticipated. When we started last spring semester, we had a lot of talent and a lot of folks interested in competitive video gaming," said Information Specialist and club adviser Paul Latino. "Video gaming is no longer the niche hobby it was when I was a student here, it's grown by leaps and bounds."
Members of the Esports Club compete in statewide tournaments in games such as League of Legends, Rocket League, FIFA, Valorant, and Overwatch. Winners can even earn significant money.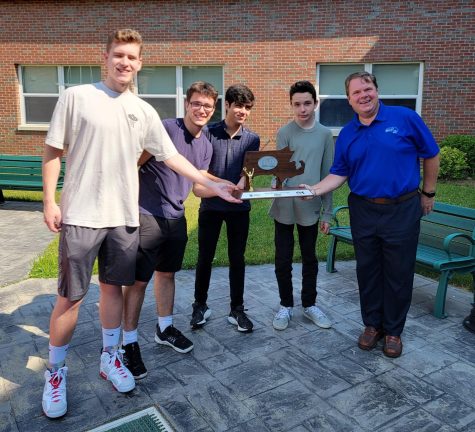 "This sort of hardcore, team-based, competitive game play is a whole different ballgame for players though. It requires a lot of time, energy, dedication… and a high tolerance for frustration when things don't go your way," said Latino. "We are already an award winning program, with our Rocket League team last season the Massachusetts Rocket League State Finalist. They ended up winning a nice cash prize for their great season."
With the rise of Esports, a new career path has emerged. Wachusett's Esports website includes links to scholarships that colleges offer for their own Esports teams.
Esports member and captain of the "League of Legends" team, Evahn Niquette, said being in the club provides good exposure. 
"It's really good for college scholarships and other jobs like marketing for the team or coaching for organisations are looking like really good job opportunities," said Niquette. "I've been here as long as it's been around."
Students who don't want to compete in established tournaments can join another video game based gathering – the Gamers Club.
"Gamers Club was founded eight to nine years ago," said assistant principal and club adviser, Anthony DiBenedetto. "Kids wanted a place to hang out and play their video games after school."

In a rather sharp contrast to Esports, the Gamers Club serves as a place for the casual video game base to gather. 
At any given Friday afternoon meeting, members may be using the Xbox 360 Kinect Bar to play a Star Wars themed dance game, engaging with an interactive simulator, or playing games on their laptops and phones. Other students may go "old school" and play board games.
"Having gaming clubs in school makes it so that kids are introduced to a variety of games that they may not have played before," said 2020 Wachusett graduate Nick Shurtleff. "They also get to meet like-minded friends who share their same interest in gaming."