Student band peaks at local, live performance
For many students the music program offers electives that help them meet their Fine Arts graduation requirement. But, for other Mountaineers, the courses have created a path for budding musical careers. 
Student band, The Peak, consists of five members: senior Patrick Kennedy on lead vocals, senior Alexandre Jourdain on bass, senior Mateo Vidali on keyboard, junior Joseph Miele on lead guitar, and senior Jonathan Godbout on drums.
"We all are a part of Wachusett's music program and found each other through it to create our band," said Kennedy.
The music department, in fact, played a critical role in the students' journey.
Jourdain brought Miele into the band.
"The band would not have formed without the music program because of Alex's connection to Joe," said senior Mateo Vidali.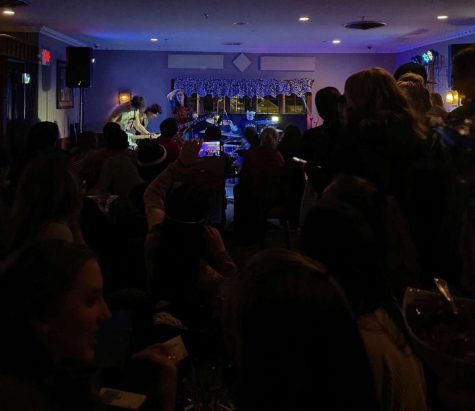 Before creating The Peak, Godbout and Kennedy played in a band together called PB&J. 
"We really wanted to start playing more live music, especially Pat," said Godbout. "It's harder to play good live music with a small band. That's why we recruited the guys in the band to play with us."
In March The Peak played to a packed house at the Wong Dynasty. 
"The Peak is as good as other student bands at the school, but I think that they appealed to the crowd at the Wong Dynasty more with their song selection," said senior Anna Gagliastro, who attended the March performance. "A good show needs more than just musical talent. The guys definitely got the crowd going – the floor was shaking when we walked in." 
Godbout said that the chemistry and camaraderie between the band members has also set them up for success.
"Everybody in the band gets along really well, despite getting to know each other at the last minute," said Godbout.
Members of the band said they considered their Wong Dynasty gig to be a success."It felt more like a party than a gig and man was it fun," said Kennedy. "We are working real hard to get more shows and venues so stay tuned for more of The Peak!"