Students experience lingering academic and emotional impacts of online learning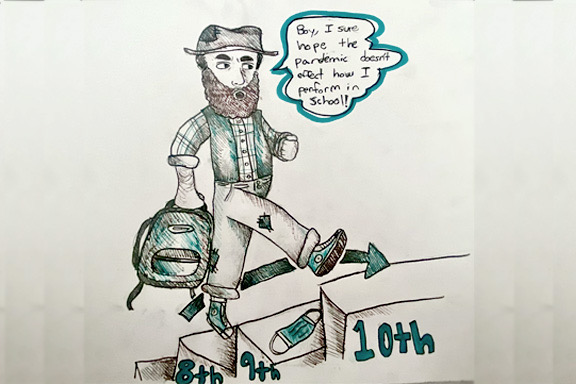 Covid has affected almost all aspects of life – from going to the store to hanging out with friends to getting an education.    
Assistant principal Andrew Costa said he has seen students have different experiences in the transition from remote learning to in-person learning. 
"Covid has definitely changed the way we interact with each other at school," said Costa. "We have all been changed somehow throughout this time. There is a silver lining in everything and it will be interesting to see the continued challenges and positives that come from this." 
Freshman Kendall Grady said she initially struggled coming into ninth grade.
"Remote definitely didn't prepare me for high school and it was a big jump," said Grady. "I felt that I didn't learn and do everything that I would have done if it [last year] were a real school year."
Junior Jillian Beando had a different perspective on her remote learning experience.
"I feel like remote learning had a somewhat positive impact on me because it gave me a break from the high standards of in person learning. I came back more refreshed in a sense," she said.
Health and Child Study Seminar teacher, Meghan Tinsley, said she helped students manage the transition from remote to in-person learning.
"Generally speaking, it was new territory for us all. I feel as though we did the best we could have done with what we had [during virtual learning]," she said. "As teachers, the best we can do for our students is to meet them where they are and make sure they feel safe and comfortable."
Study hall monitor Jenna Pierce has noticed the social difference for juniors and seniors. 
"Students missed out on a lot of social interactions in school which help with maturing," said Pierce.
But Beando said that the use of technology, like social media, allowed her to maintain close relationships. 
"Social media helped with being remote too because you could still connect with others, but also lacked the needed in-person interaction," said Beando.  
Pierce said she believes students have been resilient throughout the chaos of Covid. 
"Although high school is a bad time for students to miss out, I do think this [pandemic] could somehow make us stronger in our future," said Pierce. 
Tinsley said she uses mindfulness activities to help students destress and focus on the present as opposed to stressing over the past or future. 
"As teachers, we care more than what is down on paper. It's important to make sure our students are in a healthy mindset," said Tinsley. 
Costa said Covid gave him a new outlook on life, especially after such a long period of time in the unknown. 
"There is a silver lining in everything," said Costa. "We have to adjust in how we interact."