New club aims to highlight, document student events
In a winter complicated by COVID-19, a glimmer of hope appeared. 
The newly created Media Club worked to provide students with live streams of basketball games and track meets when fans couldn't be there in person.
"It [having our games filmed] was kind of nice because if we messed up nobody would see it,"  said freshman Brynn Dillon, a member of the girl's JV basketball team. "But we draw energy from the crowd so sometimes it would feel dead." 
Even after fans could attend sporting events, the Media Club continued filming to create highlight videos for several teams.
"It was pretty great to see all the people supporting us," said Dillon. "And it also helped with the motivation to do better because there were more people watching. It was great to have other people your age supporting you too and showing school spirit."
Members of the Media Club said obtaining footage came fairly easy. 
"It hasn't been that hard for us to do the recording," said sophomore Gavin Tuomi. "Honestly, we just set up a tripod, record it, and I myself as the chief hockey reporter, would edit all of the videos. Send it in, put it on our YouTube channel – Wachusett Media Network – and also we put it on Instagram. We have over 500 subscribers on YouTube and are still looking for more."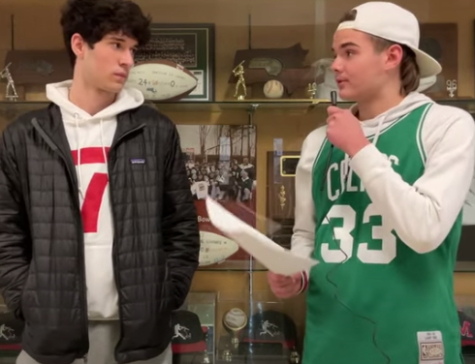 Another member of the Media Club, junior Justin Ho, agreed. 
"At first, it was a little bit difficult to keep up with the action when recording, but with more experience, it became easier. Using the larger camera to get highlight clips is also harder to do than live streaming," said Ho.
According to these student videographers, teamwork helped when completing the task at hand. 
"When you're recording with another member it makes it a lot easier because if you don't know or understand how to do something they can help you out and teach you. When we were first starting our club we had a meeting to go over how to use the equipment from Holden Community Television," said Media Club member junior Molly Gerow.
While the main focus of the Media Club has been to provide livestreams of sporting events, members hope to expand their activities. 
"I see this club starting a news show, commenting on live streams for all varsity games, and creating highlight clips to help send our student-athletes to competitive schools," said Ho.
Members said they cannot stop raving about the club and its filming opportunities. 
"My favorite part has been going to the filmings for games and the filming of Madrigal. I love when there is a group of members all working together on a project and we get to collaborate and bounce our ideas off of each other. I truly think it is just such a supportive and creative environment," said Gerow.
Documenting exciting sports moments has been a highlight of this club for both viewers and filmers.  
"My favorite part has been capturing exciting moments at basketball games on film so that players, coaches, and parents can watch the film over and over as much as they want," said Ho.
Students have expressed interest in the video clips seen on the small TV in the cafeteria as well. 
"I think the sports on the tv are a nice touch to the school, as you see a lot of college campuses and other places showing off highlights from their games and it gives the school a very professional feel," said sophomore Marcus Howley. "It's a nice way to keep in touch with school sports, especially with Covid."
The Media Club remains open to anyone who would like to join – whether a first time person working with videos and editing footage or an experienced filmmaker. 
"I was interested in this club because I had previous experience filming at my old school. I really enjoyed it there and when I heard about this club forming at Wachusett this year I was super excited. I immediately became involved," said Gerow. "I felt our school needed what our club provides, like a bigger social media presence, and the broadcasting of games for family members and friends at home."