Biden takes over wounded nation
On Wednesday, January 6, 2021, our nation faced a type of attack never before seen on our soil. A group of domestic terrorists – in response to the U.S. Congress' Certification of the results of the 2020 election – stormed the U.S. Capitol in Washington D.C. 
What began as a peaceful protest turned into a violent insurrection, with people invading the Capitol, breaking down windows, stealing computers full of classified information, carrying firearms into the House Chamber, and planting bombs at adjacent locations.
This riot stands in stark contrast against the kinds of peaceful protest that form the hallmark of a successful democracy – the kinds of protest engaged in by many students at the Regional.
"The idea of peaceful protest is to send a message and make a statement using our words," said senior Reese Lane. 
Principal William Beando conveyed a similar sentiment in a statement sent to students and parents on Thursday, January 7, 2021.
"While supporting and even encouraging peaceful protests and nonviolent debate, together, we urge us all to condemn any violent actions no matter our beliefs," said Beando. 
Perhaps the events on January 6, 2021 shocked so many Americans as daily life usually does not involve that level of violence.  Unlike wartorn countries fighting for a stable government, in the United States citizens live mundane lives – work, family, recreation (albeit limited due to Covid 19) – and do not see such violence or discord in their everyday lives. 
Many Americans also find it hard to believe that insurrectionists breached the U.S. Capitol – a building constructed and expanded in the aftermath of the War of 1812 and an unblemished citadel of American democracy for centuries. 
"The mob assault on the U.S. Capitol should be condemned for what it was: an act of domestic terrorism," said Social Studies teacher Benjamin Concannon-Smith. "The reality is that the events of January 6th exposed the fragility of American democracy. From my viewpoint as a history teacher, I believe it is important that we understand and confront this truth, in public and in classrooms across the country. It is dangerous to assume that the United States is somehow uniquely immune to threats against democratic forms of government."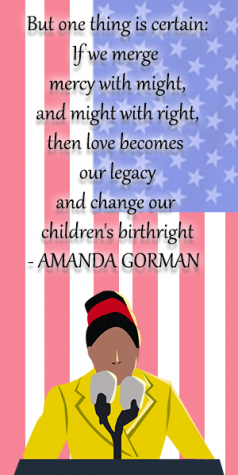 Despite the gravity of the insurrection, two weeks later democracy prevailed and on Wednesday, January 20, 2021 Supreme Court Chief Justice John Roberts swore in the 46th President of the United States.
"It was exhilarating to watch such a historic event [the inauguration]," said senior Amelia Alfonso. "It [the insurrection] made the change of power feel more refreshing and necessary."
Biden spoke of the insurrection in his Inaugural Address.
"So now, on this hallowed ground where just days ago violence sought to shake this Capitol's very foundation, we come together as one nation, under God, indivisible, to carry out the peaceful transfer of power as we have for more than two centuries," said President Biden.
While the Nation works to repair the physical and political damage done on January 6th, Americans of all ages should reflect on the gravity of the situation. 
"Our democracy is not unbreakable, and it is imperative that we understand the severity of the stress that our institutions are facing in this moment,"  said Concannon-Smith. "Teaching these truths to the next generation of Americans is one critical task that will help safeguard our democracy moving forward."